Customers ( Importing Customers, Exporting Customers, Merge Customers, Bulk Updating, Customer Contacts, Contact Fields, Custom Fields, Masked Fields, Credential Access Report, Customer Portal , Documentation, Prepay Hours, GDPR )
Overview:
The one-stop-shop for customers in RepairShopr. This is a dense kb article. So if you are looking for something specific we recommend using your browser's ctrl+f search command or the anchor links in the Table of Contents.
The Customers section is the home for all of your customer information and the place to go to view their historical information.
Table of Contents: 
Getting Started:
Navigating to the Customers tab is super easy. There will be a Customer tile along the top of RepairShopr by default. You can move it around in the Tabs Customization if you want as well. We often refer to the Customer tile as the Customer Tab in our documentation. 
Creating Customers
You can add a new customer from the customer page by selecting 'New Customer' here:





Alternatively, you can quickly add a new customer from the 'plus' menu option here: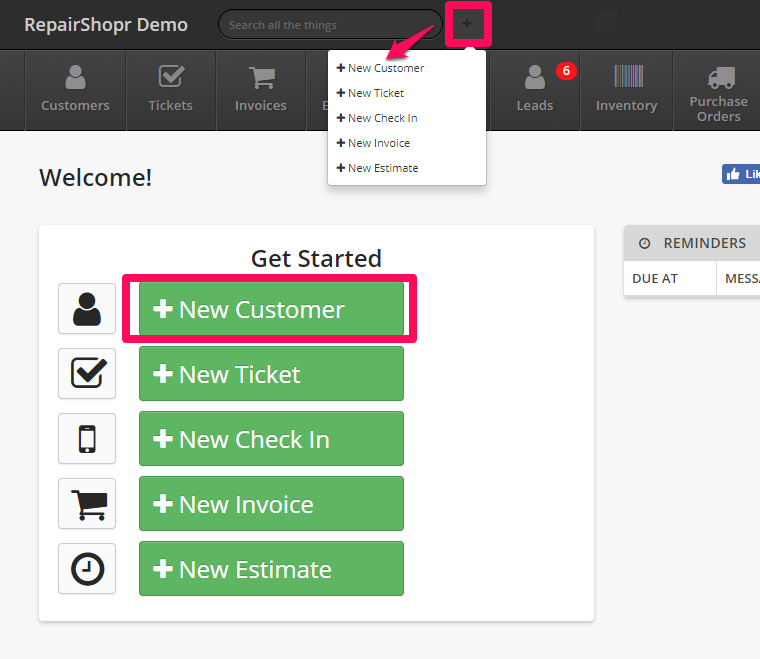 When setting up a new customer, you have the ability to set up their contact information as well as some additional settings. Once created, you'll have the ability to add assets, devices, stored credit cards (with a payment integration), attachments and notes to the customer's profile. Also, once you begin to perform work for the customer, information like linked tickets, invoices, payments will all be accessible from the customer's detail page.


The 'Customer Info' section will consist of all of your customer's contact information. By default, none of these fields are set to 'required', however, you can configure this in your Customer Preference settings located at: 
Admin > Customers > Preferences.
Some important things to note regarding this section:
Business names take precedence over first name / last name when viewing all of your customers from the main customer list.

The 'Mobile' drop-down expands so you can select the phone type. So, you may enter various phone numbers of different types by selecting the 'Add New Number' button.

The 'Add Another Address' allows you to enter multiple addresses on file. You may also choose from the types 'Bill to', 'Ship to' and 'Physical'.
Note: We use customer emails as the unique identifier among customers in RepairShopr. So, no two customers may have the same email as the primary email.

If you'd like to use the same email among multiple customer accounts, you can do so in the Additional Notification Emails or Additional Invoice CC Emails sections covered in the next section.

Alternatively, you can use the same email across different customer accounts through customer contacts. More information about customer contacts available here.
Additional Fields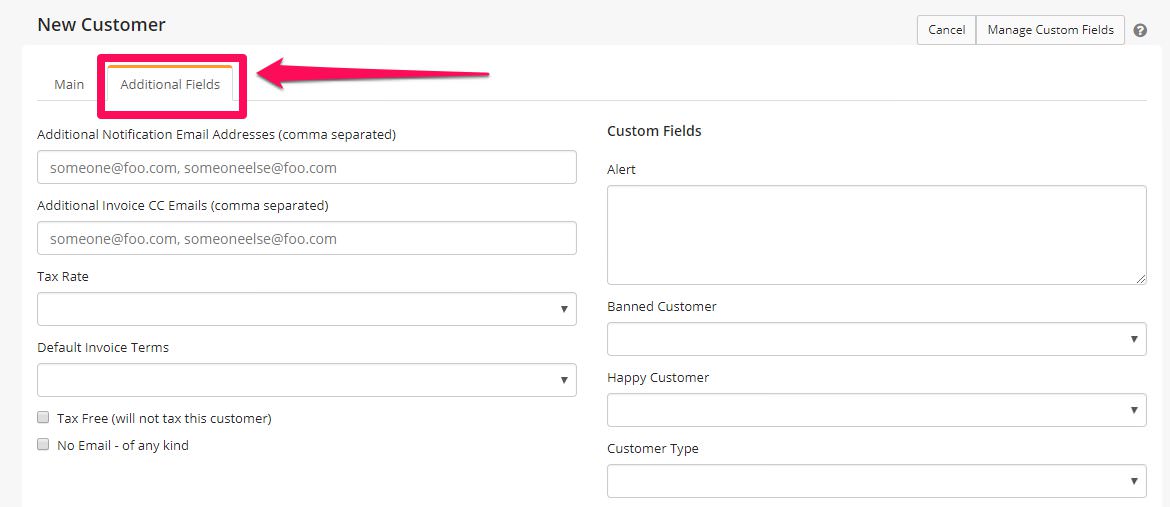 The additional fields section allows you to configure some advanced settings for the customer.
Tax Rate / Tax Free: These fields will allow you to set a default tax rate for the customer or whether the customer is 'Tax Exempt' by choosing Tax Free.
SMS Service Enabled: Allows you to enable or disable SMS communication using the customer's mobile number.
Opt Out of Email Marketing: Enabling this feature will just prevent Marketr emails from being sent to this customer's email address. Email correspondence regarding invoices, tickets, etc. will still be sent to the customer's email.
No Email - Of Any Kind: Disables all email communication from being sent to this customer.
Send Portal Invitation: If enabled, will send a portal invitation for the customer to set up and create a password. More information on using passwords with the customer portal available here.
Additional Notification / Invoice CC Emails: Allows you to add additional emails to be notified along with the primary account. Emails entered in the 'additional notification' field will receive invoice-related emails, but 'invoice CC email addresses' will not receive notifications outside of invoicing.
Default Invoice Terms: Allows you to set a default payment term for the customer. More information about invoice terms here.
Custom Fields
Customer custom fields can be accessed by selecting the 'Custom Fields' tab in the new customer section. You may also manage your customer custom fields from this the New Customer page by choosing 'Manage Custom Fields' located at the top-right of the New Customer page. More information about customer custom fields here.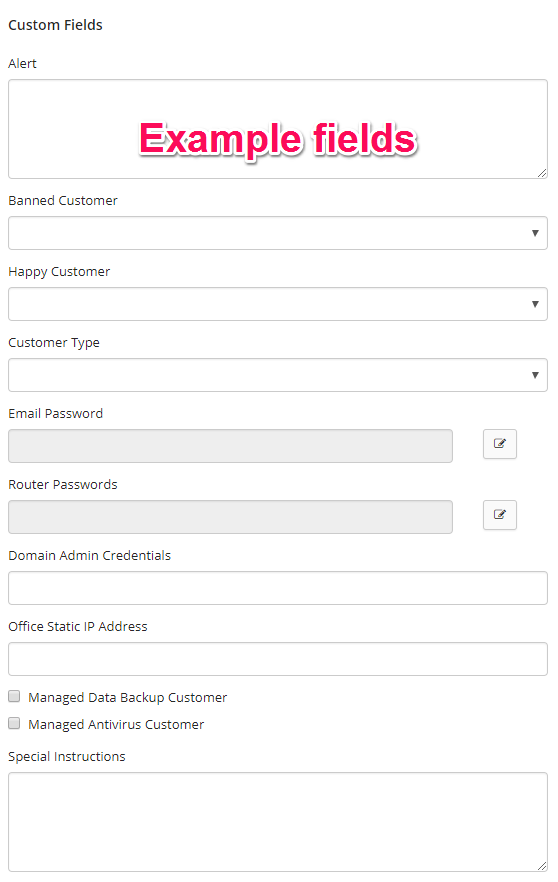 ---
Importing Customers
So you have a bunch of customers and don't want to manually enter them? I wouldn't want to manually enter them either. We have a couple of solutions for you. If you are using the Quickbooks integration or the Xero integration head to option 2.
1. You can import customers using a CSV file. To do this, head to Admin > Customers > Customer Import
You can download a template that has the CSV headers configured for the import tool (make sure not to modify those!) on step 1 of the next page.
There are some requirements for the system to create customers. Be sure you have at least 2 out of the 5 following columns for a successful import:
firstname
lastname
business_name
email
phone
Once your CSV is ready to go, you can import it from this page in step 4.
BONUS STEP
: T
o make things proceed a little faster, we recommend turning off the User-based minimum requirements for customer creation (This stuff gets covered later on but I'll mention it here also). Head to Admin > Customer Preferences > "Optionally, require these fields when creating a

customer" drop-down and uncheck everything > Save.
2. Import customers during the setup of Quickbooks Desktop/Online or Xero Accounting integrations.
Both the Quickbooks integration and the Xero integration have setup wizards and will prompt you to import your customers during the setup process. We strongly recommend importing your customers this way if they exist on the QB or Xero side of things. This makes it so that the customers are linked to their QB/Xero counterparts, ensuring that they will sync right away without additional steps. Both integrations can be found in the App Center. Head to Admin > App Center > Quickbooks or Xero.
You can export your customers by navigating to Admin > Reports > Customer Export to CSV.




You will then be redirected to the Downloads page (can be found by going to Admin > Reports > Downloads)
If the file is large, it may take a few minutes and require you to manually refresh the page.
Once the file is ready to download, it will show up at /reports/downloads (e.g.YOURSITE.repairshopr.com/reports/downloads).


Refresh the page to view the customer.csv export
---
Customer Tab
This is the home of your Customer database.
Your customers are listed here in alphabetical order by last name and business name. The search field can be used to search by name, business name, email or phone number (there are other places in the software to quickly lookup customers also, specifically the Search All the Things field that is at the top of every page).
---
Customer View Modal
Anywhere that a Customer is shown on the Customer Tab, Tickets, Estimates and Invoices, there is a hover-over icon that can be clicked to quickly view information about a customer or make quick changes to their record.
---
Customer Detail
This page will show you everything about this customer that relates to your business. There are links and sections here for days...The idea here is to make everything easily accessible. The next section of this KB is to define things on this page. 
Clicking the Orange 'New' drop-down to access the ability to create an all-new manner of things.
Click the Custom Fields Tab to make changes to any Customer Ticket Fields you may be used for extra data points on the customer.
The Actions drop-down here allows you to Merge or Disable customers here. With Great Power comes Great Responsibility and all that. Be certain of what you are doing as there are no take-backs
The Communication Log Tab displays a record of most communications that go out or come in from the customer. You are also able to record inbound/outbound communication manually to the log as well. The more info the better right?
This tab is helpful to track who has made changes to the Customer Record!
---
Merge Customers

What it does:
This allows you to merge customer records together
What it doesn't do:
It does not merge the Address (city, state, zip), Prepay Hours Balance, Notes, Custom Fields, and Settings ("SMS Service Enabled" and "Opt Out - Email Marketing")

We've added the ability to merge customers within our application! 

First, go to your main customer records page.
Jackie's record was entered by mistake, and is actually meant to be listed as Jackie Johnson - so we're going to merge these records together.




Let's merge Jackie's record into Jackie Johnson record. To do this we need to open the customer detail page of the customer we don't want anymore, in this case, Jackie.

Once there, we'll click on Actions > Merge button.




Next, we'll enter the customer we want the record to merge to name on the far right, in this case Jackie Johnson - this will be the record that the first customer will be merged into.




On the final screen, we'll be taken to Jackie Johnsons 's customer detail page, which will show all of Jackies tickets, invoices, and assets too - but now they are listed under Jackie Johnson.

Please Note: Merging customers is irreversible once completed, so please take care to not accidentally merge customers. :)
---
Bulk Updating
If you need to perform an update for many customers, you may find it easier to do this in Excel rather than manually updating each customer record in the application.
Steps:
Export your customer file by navigating to Admin > Reports > Customer Dump to CSV.


If it's a large file, this may take a few minutes. When it's ready, you'll find it in /reports/downloads.


Edit the file in Excel. Detailed notes and suggestions are below.



Reimport the edited file. Admin > Customers > Customer Import. (more info: http://feedback.repairshopr.com/knowledgebase/articles/258007-how-do-i-import-customers)
Columns in Customer CSV Export:
id: The unique ID that the software has assigned to that customer. It is not recommended you modify this.

firstname: The customers first name

lastname: The customers last name.

email: The customers email address

address: The main address for the customer

address_2: Used for apartment number, etc.

city, state, and zip: The customer's location information

phone: A phone number serves as the unique ID for the customer. It is recommended you include one.

mobile_phone: A mobile phone number is required for SMS

office_phone:  Phone number in Office Phone category.
home_phone: Phone number in Home Phone category.
fax_phone:  Phone number in Fax Phone category.
other_phone: Phone number in Other Phone category.
get_sms: Set to TRUE if customer can receive SMS messages
location_id: It is not recommended you modify this.

business_name: If the customer has a business, or if this is a business account, include the business name here

created_at: System driven. It is not recommended that you edit this unless you specifically need to.

updated_at: System driven. It is not recommended that you edit this unless you specifically need to.

referred_by: You can customize referred by sources in Admin > Customer Preferences. You can then add these sources to this field for your reports.

notes: Notes on the Customer detail.
tax_rate: Tax rate for Customer if different than the default. The tax rate is the code in the URL when viewing Tax Rates.
tax_free: Set to TRUE if the customer is tax exempt.
no_email: Set to TRUE if customer should not be permitted to receive email or FALSE if customer should be permitted to receive email

opt_out: Set to TRUE if customers want to opt out of marketing emails or FALSE if they want to receive them.

disabled: Set to TRUE if customer is disabled.

custom_fields: Refer to the customer import document for more information
Specific Situations:
Customers have been set to "no email"
It is possible for your customers to be automatically set to no email. This happens if the system detects a bounced email from the customer. Their name will then show in Admin > Reports > Customer Opt Outs. You'll also be notified of this when you try to email them through the system. This is designed to keep your email from getting blacklisted / flagged as spam. If you have a large number of these in the system, you can perform a bulk update to reset these.

To make it so that all your customers are permitted to receive email, set no_email to FALSE. If you do not have a no_email column in your export, go ahead and add it.
You would like to delete all your customers' phone numbers:
Delete the information from the appropriate column(s).

Back To Top

---
Is your client a family or business? You can add additional contacts to a customer record very easily (sometimes automatically: see Mailboxes)
First, let's start with how to activate this feature. Head to Admin > Customer Preferences > Check Enable Multiple Contacts on Customers > Hit Save
Next, you should now have the option to create Customer Contacts on the Customer Detail page.
Should you collect more than 12 contacts on a record, a search field will appears above the contact list that lets you quickly find the Contact you are looking for!
---
Custom Contact Fields
Similarly to Asset, Tickets, and Customers, you can create fields to track custom data points for your contacts. This is great if you are tracking employees for a company or need a place to store passwords owned by a particular family member of a customer. 
To start, head to Admin > Customers > Custom Contact Fields and click New Field
You will be taken to screen where you can name the field and choose the type of data that gets entered.
These are the types of fields you can choose from:
---
Customer Custom Fields 
Create fields to record specific information about your customer that you want/need to keep on file. Things like the type of customer (residential or business), or maybe specific information about the business that may need to be referenced.
To get started, head to Admin > Customers > Customer Custom Fields
On the next screen, you will be presented with any existing Custom Fields and have the option to edit those or re-order them.
Quick Tip: If you have been using a particular custom field on customers, do not change the name of the field. The data already contained in the field for customers previously will no longer show. Worry not, putting the name back, will cause the data to return.
Click the new field or Edit to get to the Custom Field Edit screen.
Masked Credentials are a way of safely storing customer credentials to make providing assistance or Asset management as easy as possible. The password field is salted and encrypted. The salt is per row. The password is only decrypted and sent to the client at the time that the field is clicked to be shown. 
There is a tab on the Customer Detail page.
Click the Credentials tab and you will see existing Masked Credentials or create new ones.
Clicking New will add a new row to the data table so that you can enter the credential information.
If you have the Masked Credentials set to be visible on the Customer Portal and the Portal User has the correct Portal User Permissions it will look like this.
In the Security Groups, there are several ways to customize what access a non-Admin has to the feature.
There is a report that allows Admins to view who has accessed the credential details along with time stamps. Head to the Reports tab or Admin > Reports > Credential Access Report to view it.
---
Customer Portal
Overview

:

The Customer Portal is a place for your customers to view all sorts of information about their tickets, communicate back and forth with you to paying you!
What it Does:
Customers can be automatically invited to the Portal when they are added to RepairShopr
Customer can view existing Tickets or Create new Tickets by default
Customers can view Invoices and pay you if you are using a Payment Integration
Customers can approve or decline Estimates
Customers can View uploaded documents
Customers can be Assets you have worked on
Customer can view past payment amounts
(Read through the article to get more details on the above)
What it Doesn't Do:
It's not an actual portal created from folded space-time. Well, maybe in a different universe it is anyway.
First where is the Customer Portal? Head to the Customer Detail Page and on the left side there is a section called "Customer Information." At the bottom of the section, there is a link called Customer Online Profile (Customer Portal) that can is available as long as there is an email for the customer entered in their info. This will be where you can access the Customer's Portal to see what they can see.
The idea of the Customer Portal is to bring another level of communication to your customers to stay informed about their repairs or work being conducted by your shop. The Customer Portal is automatically created for every customer in the system that has an email address entered. We include a link to the Customer Portal in the footer of emails that go out to customers be the default. Of course, that can be changed in the PDF/Email Template section of Admin.
Let's start with what it looks like first!
Clicking the Ticket number will take the customer to the Ticket Detail where you have the below functions.
So in case it's not clear, there are some handy things happening here:
Things to note here are:
If you are using one of our Integrated Payment Gateways or PayPal, customers are able to pay their invoices in the Customer Portal. They can choose to pay individually or multiple invoices at once. Clicking the Invoice number on the right will take them to the detail screen for the invoice.
Fun things to note:
Portal Users:
While by default it is possible to get directly into the Customer Portal, we do have a feature that allows you to provide the customer a Username and password to secure their Portal. If the customer has employees that may need to use the portal or that may submit work requests, we recommend also turning on Contacts in the Customer Preferences.
The Portal Users are housed on the Customer detail page for a customer. Head there and scroll down to the Portal User section that looks like this:
What it does
Gives you a place to put content for your team with a nice HTML editor so you can create all kinds of nice-looking content, including images and videos
Easily create parent pages to link them children pages to create a hierarchy
Add links to other pages, websites, custom widgets, booking calendars, and more
Set document privileges to give all, one or no customers access to certain documents in their customer portal
Add a navigation sidebar to organize your documentation internally
Create customer-specific documentation for each customer utilizing our template tags, making cloning documents for each specific customer that much easier
Create templates to quickly set up new articles for customers
What it doesn't do
Cannot link documents to assets (coming soon).
Getting Started with Customer Documentation
The customer wiki, located on the main customer detail page, is a place to include many details about your customer both internally, and externally in the customer portal. You can enable it under Admin > Customers > Preferences:


Once you have enabled this setting, you will be able to view and create a customer documentation page on their customer details page:
Now that you have created your article and set it to be visible in the customer portal, you can revisit the customer to view their new link to their customer documentation!
You can also click the "Customer Online Profile" link to view what the customer sees inside their portal for their newly created documentation section:
Clicking on the document's link will take you to the customer's documentation, with the proper information replacing the template tags you added earlier:
Important notes for customer documents:
If you want the customer to have access to this documentation, set the page type to Customer Portal
If you do not want to associate this page to a specific customer, but would like all customers to have access to this documentation, leave the Customer Name blank
On the other hand, if you only want certain customer access to this page, please ensure to add the customer's name from the dropdown when typing the name into the text field
Firstly, we need to find the Documentation Center! If it is not already in your top navigation bar, make sure to enable it in under "Admin" > "Tabs Customization".  
Once you do, click on the navigation tab for "Documentation" to get started! You should see a page that looks a little like this:
Once here, you will want to click "New Page" to add a new document. Just make sure to add a Page Name and mark the Page Type as internal, and you should be all set!  
Keep in mind that you can create "Parent-Child" by adding links to documents like this:
For internal wiki pages, you will only need to add the "Page Name" of the document to the URL text field. For external URLs, you will want to add the full URL to the URL text field.
You can create templates to quickly generate a new article on the fly for customers by selecting the "Template" page type in the drop-down on the Documentation Editor.
Next, add in the structure of the template and save! Once the template is created, a tag will be displayed next to the title when viewing the template on the editor page to help call out that it's a template.
Now when you want to create a new document for a customer all you need to do is head to the Customer Detail screen, scroll to the Document section, and click New. On the following page, there will be a drop-down where the template can be selected to generate.
If there is anything we missed, or you would like clarification on, please do not hesitate to reach out to help@repairshopr.com! We are more than happy to help. =) 
You can add Masked Credentials to the Documentation section! Head to the Documentation tab and edit an existing Document or click New to start a new one. You will see the Credentials section at the bottom of the page.
Click New Credentials to get started.
Once you click the New button a section will appear in the table.
This is what the Document will look like when a tech is viewing it.
This is what the document looks like if the customer has the appropriate Portal Permissions.
Speaking of Portal Permissions! Here are the options at Admin > Customers > Customer Portal Permissions. These are not enabled by default.
---
Prepay Hours (Block Hours)



They can be tracked in reports, added to service level agreements and contracts or combined with discounts in the form of packaged deals.

The customer knows what they pay every month and the business receives steady revenue whether the service is used or not.
What it Does
Allows you to set a charge for pre-paid hours and add as a line item on an invoice
Automatically deducts prepay hours and adjusts balance when labor is added
Clear/Reset options on Prepay Hours on a recurring invoice
Works on Ticket Charges/Line Items
What it Doesn't Do
There isn't an option to add discounts on prepay hours. Discounts must be added using the same discount method for all invoice line items. You can read more about setting up discounts here.
Does not work in the POS module
Getting Started:
First Enable Prepay hours by heading over to the "Admin" tab and selecting "Customer Preferences"
Check the box that says "Enable the Prepay Hours Tracking Feature"
Then create a Prepay Hours inventory item. Head over to the "Inventory" tab and select the green "New Item" button.
Fill in required fields, make sure select "Prepay Hours" as a category.
This is very important and it is what will trigger the system to adjust automatically when an item with the "Labor" Category is added as a line item to an invoice.
Set the price and then select the "Create Product Button"
You can now add Prepay Hours as a line item to an invoice.
Note: 
The number of hours added to the customer's prepay hours is dependant on the quantity line item.  So if you bill for one Prepay Hour line item, you will add 1 prepay hour to the customer. 
Complete check out by selecting the green "Take Payment" button.

Sometimes users get confused about how to deduct hours. The main thing to remember is:
Inventory items with the category "Prepay hours" ADD prepaid hours to a customer account.

Inventory items with the category "Labor" SUBTRACT these hours from the customer account.
Setting up Expiring Prepay Hours
If you plan to have your Prepay Hours expire and reset at the end of the month you can set it up by following the simple steps below.
Head over to the "Invoices" tab" and select the "Inventory Modules" dropdown.
Then select
Recurring Invoices
and from there click on the yellow edit button to edit an existing Recurring Invoice.
Check the box that says "Clear/Reset Prepay Hours (before this runs)"
Add the Prepay Hours item as a Line item. And you are all set!
Setting up Deductible Labor  
There may be cases where you will need a labor item to show up on the ticket timer for tracking but don't want the pre-pay hour pulled for that labor item.
Store Credit


What it does:
Store Credit works sort of like you might think of a gift card or deposit payments.

What it doesn't do:
Once you added Store credit to a customer you cannot simply remove the credit. The payment attached to the store credit either has to be added to another invoice or the payment needs to be deleted.


Table of Contents


Overview

There are a couple of simple ways to create store credit.
You can make a Customer Purchase and give them credit instead of cash/check/etc
You can do a Refund, and credit them with Store Credit
You can add Store Credit from the Customer page (New > Store Credit), which will not be associated to a transaction
Customer Purchases
For Customer Purchases, just make sure you have a "Store Credit" payment method, and it's set to behave as Store Credit. To do this go to Admin > Invoices > Payment Methods >New Payment Method > In the Payment Type select the >Store Credit Dropdown




Then in the Customer Purchase, you can "pay them" in Store Credit - and it will maintain a balance that is available to use on future invoices.


Invoice Refunds
Invoice Refunds will work in a similar way, you can also pay it out to Store Credit and it will be available to use in the future.

Then you'll see the credit balance on the Customer Detail page like this


Applying Credit to an invoice
To apply this credit on an Invoice.

1. Go to the invoice
2. Select the Take Payment button
3. Look for the customer credit balance above the payment >  Select Apply
4. Choose the amount to apply and then "Apply Payment"

This payment will then be added to the invoice.

Please see the screen-recording below on how to do this

Removing a Credit Balance

To remove stored Credit, you would have to delete the payment that was applied to this customer without an invoice attached to it. All payments can be viewed by going to the customer detail screen and scrolling down to the Payments section. Here you would be able to see payments that don't have an invoice number attached.

Please note: Any overpayments on invoices would also reflect as Credit, but for this, you would need to go through each invoice and check if an overpayment has been made




Once you found the payment you can select it by clicking on the date > Go to the payment and select the Delete button