Welcome to the new and improved Documentation Center! Here, you can store
free-form text like help documents, customer information, user guides, and more.  
What it does
Gives you a place to put content for your team with a nice HTML editor so you can create all kinds of nice looking content, including images and videos
Easily create parent pages to link them children pages to create a hierarchy
Add links to other pages, websites, custom widgets, booking calendars, and more
Set document privileges to give all, one, or no customers access to certain documents in their customer portal
Add a navigation side bar to organize your documentation internally
Create customer specific documentation for each customer utilizing our template tags, making cloning documents for each specific customer that much easier
Create templates to quickly set up new articles for customers
What it doesn't do
Cannot link documents to assets (coming soon).
Table of Contents
Getting Started
Uploading Images/Files
Organize and Set-Up Internal Documents
Documentation Templates
Getting Started with Customer Documentation
The customer wiki, located on the main customer detail page, is a place to include many details about your customer both internally, and externally in the customer portal. You can enable it under Admin > Customers > Preferences:


Once you have enabled this setting, you will be able to view and create a customer documentation page on their customer details page:
Once you've clicked the 'Customer Wiki Page' link for the first time, you'll be prompted to create the first wiki page for that customer: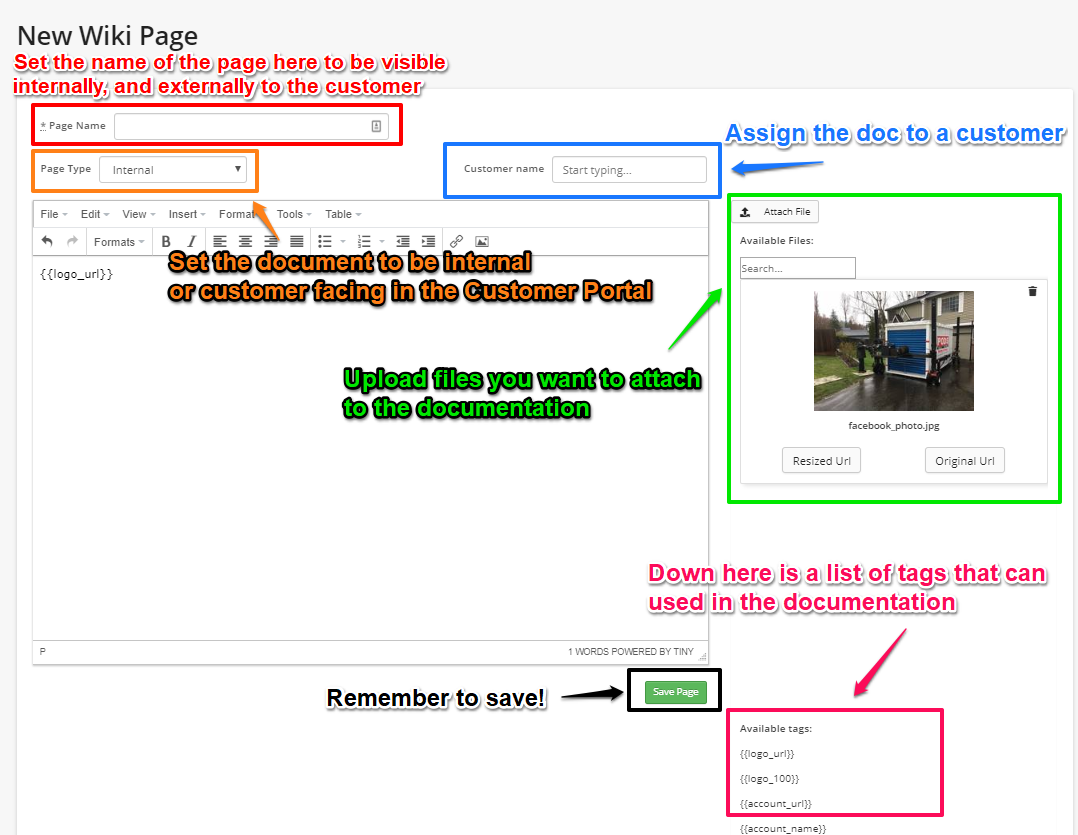 Uploading Images/Files

Once you upload your image, there are 2 options for image size. Clicking either one will copy a URL to your clipboard. Once it's been copied, head to the Insert button > Image > In the Source field, paste the URL and Save. Your image should then load in to the editor. Easy!
Now that you have created your article and set it to be visible in the customer portal, you can revisit the customer to view their new link to their customer documentation!
You can also click the "Customer Online Profile" link to view what the customer sees inside their portal for their newly created documentation section:
Clicking on the document's link will take you to the customer's documentation, with the proper information replacing the template tags you added earlier:
Important notes for customer documents:
If you want the customer to have access to this documentation, set the page type to Customer Portal
If you do not want to associate this page to a specific customer, but would like all customers to have access to this documentation, leave the Customer Name blank
On the other hand, if you only want a certain customer access to this page, please ensure to add the customer's name from the dropdown when typing the name into the text field
Firstly, we need to find the Documentation Center! If it is not already in your top navigation bar, make sure to enabled it in under "Admin" > "Tabs Customization".  
Once you do, click on the navigation tab for "Documentation" to get started! You should see a page that looks a little like this:
Once here, you will want to click "New Page" to add a new documentation. Just make sure to add a Page Name and mark the Page Type as internal, and you should be all set!  
Keep in mind that you can create "Parent-Child" by adding links to documents like this:
For internal wiki pages, you will only need to add the "Page Name" of the document to the URL text field. For external URLs, you will want to add the full URL to URL text field.
You can create templates to quickly generate a new article on the fly for customers by selecting the "Template" page type in the drop down on the Documentation Editor.
Next add in the stucture of the template and save! Once the template is created, a tag will be displayed next to the title when viewing the template on the editor page to help call out that it's a template.
Now when you want to create a new document for a customer all you need to do is head to the Customer Detail screen, scroll to the Document section, and click New. On the following page, there will be a drop down where the template can be selected to generate.
If there is anything we missed, or you would like clarification on, please do not hesitate to reach out to help@repairshopr.com! We are more than happy to help. =)