What it Does
With our Xero integration, customers, invoices, and payments you create in our software will automatically sync to Xero. With the setup, we also do a one-time import of all your Xero customers and inventory items.

You can also have some payments synced to our app from Xero.

The sync is triggered when invoices or payments are modified, so just updating a customer does not send that information to Xero. After any invoice is modified it will sync to Xero.

Updates on inventory are pushed over into and updated in Xero. 

Xero's API is still in development so we will continue to update our integration as they add additional functionality. Xero currently has limitations on the number of API calls permitted each day so deeper integrations will become more possible as that changes over time.

Interested in tracking COGS in Xero using our app? See this article!

What it Doesn't Do

Updated Dec 29th 2015: Currently split payments and overpayments aren't supported. Also purchase orders are still not implemented on the Xero side so we are waiting for that before we can implement them.

How to Connect



Just head over to the App Center, click the Xero app, and you should have a button to start the authorization process.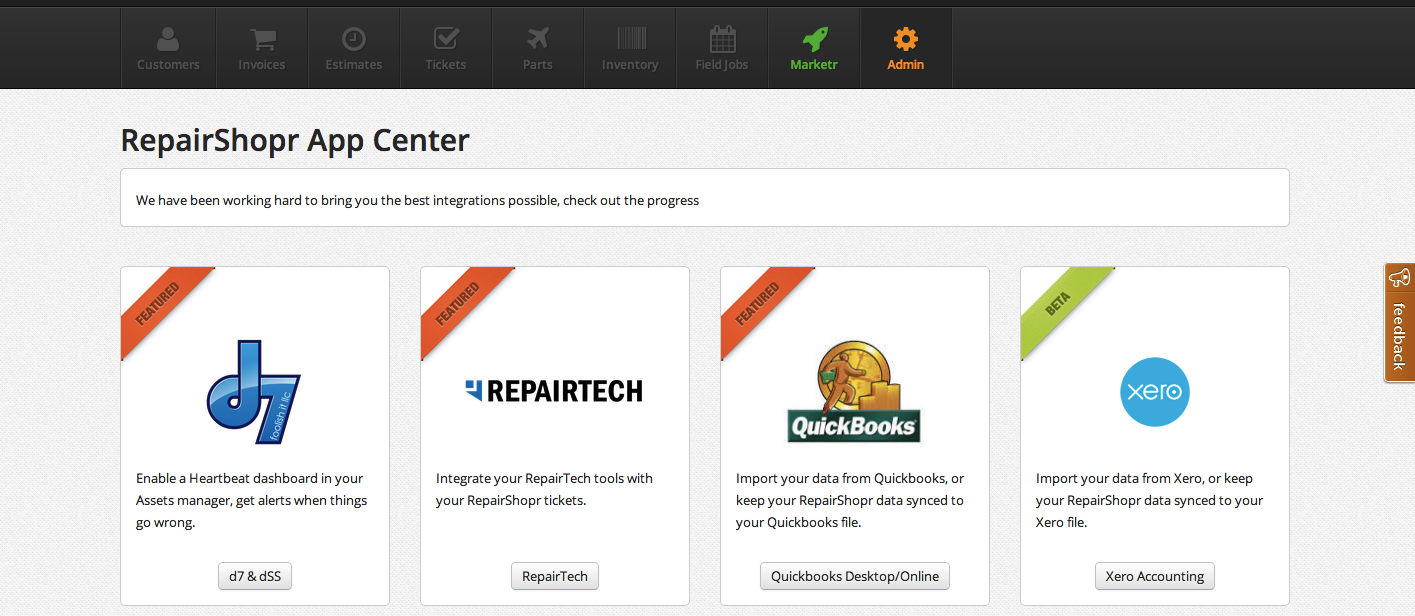 This process is a standard oauth flow that directs to the xero site to login, then back to us to confirm you approved it.

Once you are directed back to us, it just takes a moment for us to import your chart of accounts (just the names) and you are good to go.


How to Configure

The settings page will ask a couple simple questions like;


What account do you want sales attached to?
What product do you want us to fallback to if you haven't mapped something?
The account is easy, it's probably just 'Sales'.

The product is more personal, you may want to

Setup a catchall and use that for everything
You may want to setup "Labour" and "Hardware" and have things fallback to one of those
You may want to have a direct mapping of every product/service with a 1-to-1 mapping
We support all of these, and it's totally up to you.


Customer Import/Export
If you have a database of customers in Xero, you may want to sync them up to your customer database here to improve the ability of us to send the data to Xero. Since Xero requires names be unique, doing an import from Xero to our app will make sure all those names are matched up before data starts flowing.

Just head to Admin, Apps, Xero, Settings - and click Import Customers.
(This can't be undone, so be sure you want those contacts in your database)

To Export your customers to Xero, it just happens automatically when you create or modify invoices. Any time you touch an invoice, it queues a sync to Xero. If you have some invoices in your account you want to send to Xero, you'll have a link 'Re-Sync to Xero' on your old invoices - just go click that on each of them.

At this time there is no bulk export from the app -> Xero.

Payment Syncing
We have the ability to sync or not sync outbound payments, and we can also attempt to sync payments into our software from Xero.

Some users prefer to not send payments from the application to Xero and to have those payments come automatically from their bank. To use the integration in that way just check the box to "disable syncing of payments" and then check the box for "Attempt to import payments from Xero".

We will run a scheduled task in the background every few hours and if we can find a payment that doesn't exist with us, and the amount exactly matches an open invoice for the same customer in our software, we'll import it and apply it properly. If the amounts don't match we will just skip it and your finance team can reconcile them manually.

Troubleshooting
Why aren't payments being exported?
If invoices are being created, but payments are not being created, make sure that the Xero account that is used for "Payment Account"  has "Enable payments to this account" checked in the Edit Account Details popup.
I am getting an error for payments
If you get the following error:
ERROR creating Xero payment. ErrorNumber:10| Error Message:Account type is invalid for making a payment to/from
Make sure that the account you specified for "Payment Account" in the Xero settings has "Enable Payments To This Account" checked in Xero.
If you find that you're unable to complete the initial setup because your payment accounts aren't appearing, make sure to have an account code assigned to your bank accounts and this should resolve the issue.
Please note that for Xero invoices with the following will not sync:

1. Invoice with $0 (e.g. empty invoices, and invoices where the line item is discounted 100 %) will not sync unless they are marked as PAID.
2. Refund invoices, or other invoices where the balance is a negative amount