PDF/Email Templates
 Please excuse our dust while we make this page AWESOME!
What it does:
Allow you to tailor the look and feel of the messages your customers receive from RepairShopr.
What it Doesn't Do:
It won't fix that one tech continually refusing to use punctuation in their messages. 
Table of Contents:
Version History -
Are you here because you accidentally erased your template or submit a mistake? 
Go Here
Getting Started:
To access the PDF/Email Templates, head to Admin > PDF/Email Templates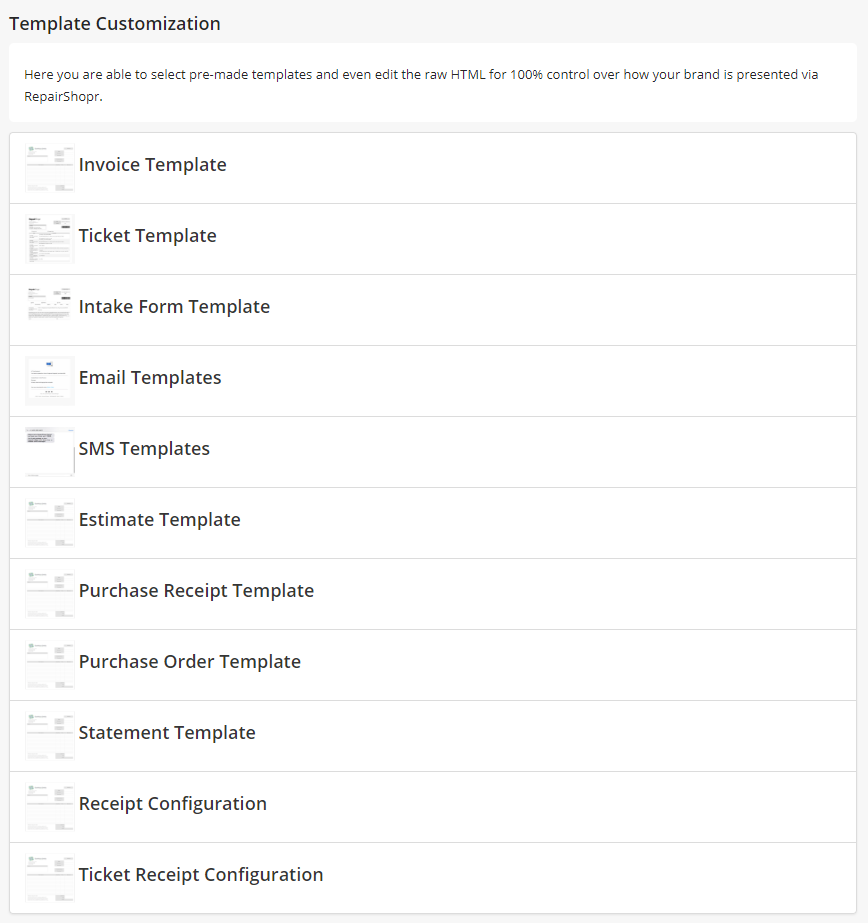 From there you can choose from a selection of templates that go out to your customers. We will cover them throughout the remainder of the article.
Version History
Many of the templates have a function that will allow you to revert to a previous template version in case of a accidental modification or deletion. Head to the edit page for the template and if the template has Version History you will see it represented as a button like this:
Invoice, Ticket, Intake Form, Outtake Form, Estimate, Purchase Receipt, Purchase Order, Statement Templates OH MY!
Edit the look and feel of your templates here.
Many of the Templates have Disclaimers or sub-sections that can be edited from the tabs along the top of the editor. These sub-sections can be added using template tags on the right of the main template editor you are editing.
Clicking Edit will take you to the Editor page where the magic happens.
The template tags are located on the right side of every main template editing page. Note that not all tags are universal and some can only be used on the page they are listed.
Ticket Receipt Configuration

This template enables you to configure how your POS receipts (80mm receipt paper format) look for customers.
Checking the following options will make them appear on the receipt:
Show logo
Include created at
Include subject
Include approval
Include priority
Include customer email
Include customer address
Include customer phone
Include custom fields
Include assets
Include due date
Include ticket type
Include signature
Include barcode
Clicking Advanced will bring up the ability to customize the name of those sections.
It is worth noting that for the Receipt Length field. The default is 660 Units. Overriding can have fun and expected results. With great power and all that. We are tinkering with the override size so this is a more fluid area of this template.
Troubleshooting



Problem: Images added to invoice template by using the {{ticket_images_rendered}} tag are much bigger than the same images on the ticket.




Solution: The invoice template needs some extra CSS to regulate the size of the rendered images. Edit the source of the invoice template and add this code to the CSS section:



.rendered-image {
    max-width: 200px;
    max-height: 150px;
    padding-right: 10px;


   }