Migrate from RepairShopr to Syncro



Transfer your existing RepairShopr account to Syncro (no taksie-backsies!).



Please note: RepairShopr to Syncro migrations require an annual subscription to Syncro.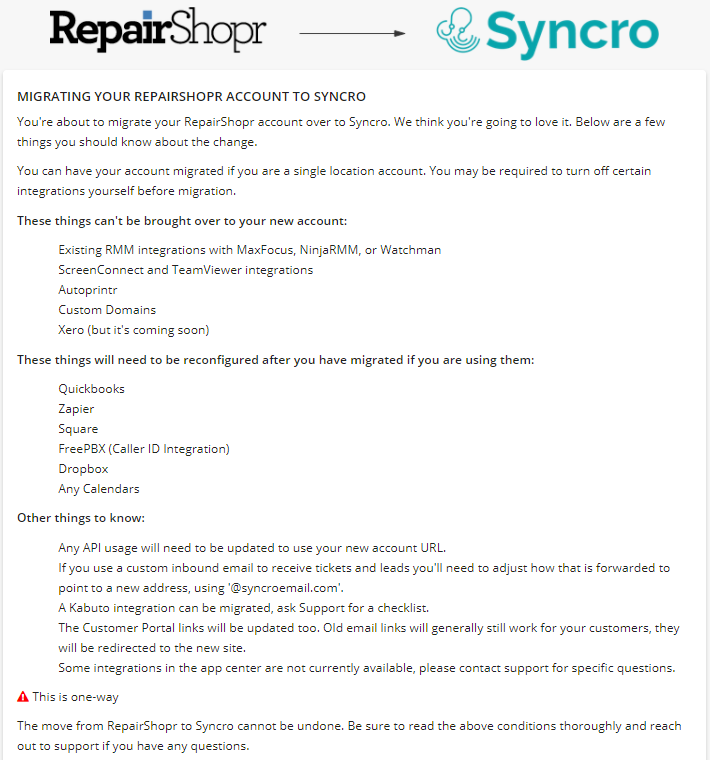 Important info:


You can request the transfer of your RepairShopr account at the below link. 
https://(your subdomain).repairshopr.com/accounts/migration_request

Here is the TL;DR
1. RepairShopr to Syncro migrations require an annual subscription to Syncro.

2. Read the entire article thoroughly to make sure you understand what will require touches and authorizations after migration.
3. Requests need to come from the owner of the account.
4. This is a one way trip, so make sure you have made your decision (remember Syncro has a trial and we recommend basking in the awesomeness). 
5. Once the migration is complete your RepairShopr and/or Kabuto account will no longer be accessible.
6. We are continuing to develop features, but can't guarantee all future RepairShopr features will be present in Syncro.
Wait! I have more to share!
Before you do though, it is highly recommended you read on about the requirements. This is a one way street so you want to be sure you are making the decision wisely.
More things to know:
These things can't be brought over to your new account:
Existing RMM integrations with MaxFocus, NinjaRMM, or Watchman
Autoprintr
Custom Domains
Xero (but it's coming soon)
ScreenConnect and Team Viewer
These things will need to be reconfigured after you have migrated if you are using them:
Quickbooks
Zapier
Square
FreePBX (Caller ID Integration)
Dropbox
Any Calendars
Other things to know:
Any API usage will need to be updated to use your new account URL.
If you use a custom inbound email to receive tickets and leads you'll need to adjust how that is forwarded to point to a new address, using '@syncroemail.com'.
A Kabuto integration can be migrated, ask Support for a checklist.
The Customer Portal links will be updated too. Old email links will generally still work for your customers, they will be redirected to the new site.
Some integrations in the app center are not currently available, please contact support for specific questions.
This is one-way

The move from Repairshopr to Syncro cannot be undone. Be sure to read the above conditions thoroughly and reach out to support if you have any questions.