Support for Canada with Multiple Tax Rates GST/PST (BETA)
Last Updated Nov 8th, 2016

We finally did it!

We now support multiple tax rates for our users in Canada.

What it Does
You can setup your GST and PST tax rates, and a combo rate
You can choose which products/services get a specific rate or combo
You'll get reporting that just works, and it shows the dual taxes on the receipts/invoices
What it Doesn't Do
Xero integration planned
Let us know if you find anything else
Tour

First, head to Settings, Invoices and opt in the "Canada Dual Tax".

Then - setup your tax rates. You'll need 3 of them, GST, PST, and then the combined "group".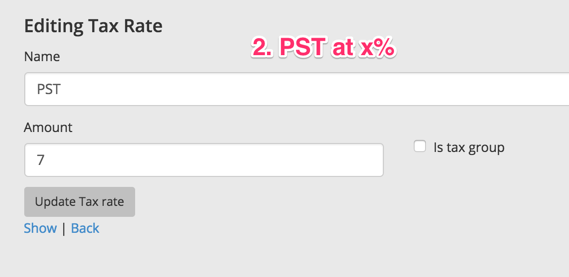 Now that you've got a couple rates created, probably drag the group to the top so it's the "Default" for your account.





Next we'll head over to Inventory and manually assign just GST to the non-physical items like "Labor"




At this point, making a new invoice will use "All" (combined) - but any time you add a Labor item it'll automatically only charge GST.

You'll be able to see this clearly in the Invoice like so


Troubleshooting

Let us know if you have any issues