How do I create a new Customer?
Create New Customers


Getting Started

You can add a new customer from the customer page by selecting 'New Customer' here:



Alternatively, you can quickly add a new customer from the 'plus' menu option here: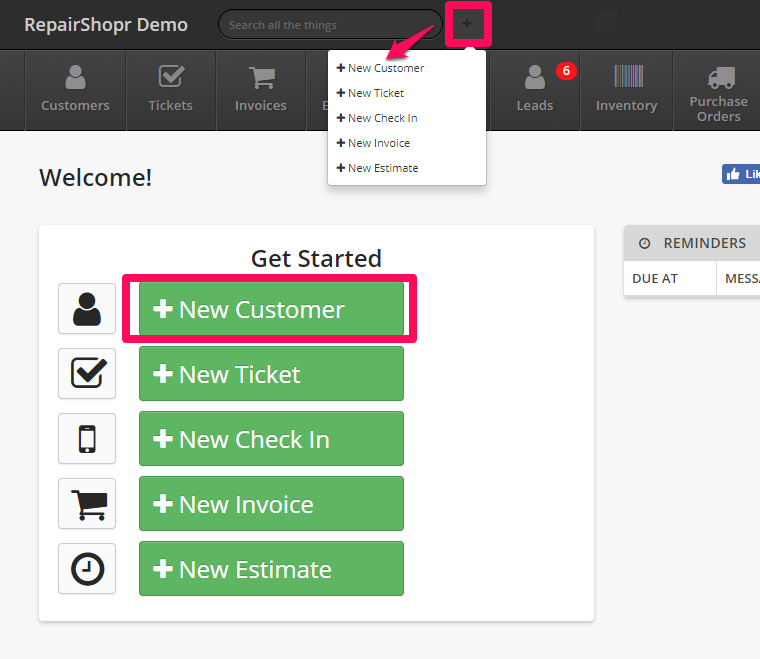 Customer Details
When setting up a new customer, you have the ability to set up their contact information as well as some additional settings. Once created, you'll have the ability to add assets, devices, stored credit cards (with a payment integration), attachments and notes to the customer's profile. Also, once you begin to perform work for the customer, information like linked tickets, invoices, payments will all be accessible from the customer's detail page.

This is the main 'New Customer' page, let's go ahead and break down some of these settings individually.
Customer Info
The 'Customer Info' section will consist of all of your customer's contact information. By default, none of these fields are set to 'required', however, you can configure this in your Customer Preference settings located at: 

Admin > Customers > Preferences.
Some important things to note regarding this section:
Business names take precedent over first name / last name when viewing all of your customers from the main customer list.
The 'Mobile' drop down expands so you can select the phone type. So, you may enter various phone numbers of different types by selecting the 'Add New Number' button.
The 'Add Another Address' allows you to enter multiple addresses on file. You may also choose from the types 'Bill to', 'Ship to' and 'Physical'.
Note: We use customer emails as the unique identifier among customers in RepairShopr. So, no two customers may have the same email as the primary email.
If you'd like to use the same email among multiple customer accounts, you can do so in the Additional Notification Emails or Additional Invoice CC Emails sections covered in the next section.
Alternatively, you can use the same email across different customer accounts through customer contacts. More information about customer contacts available here.
Additional Fields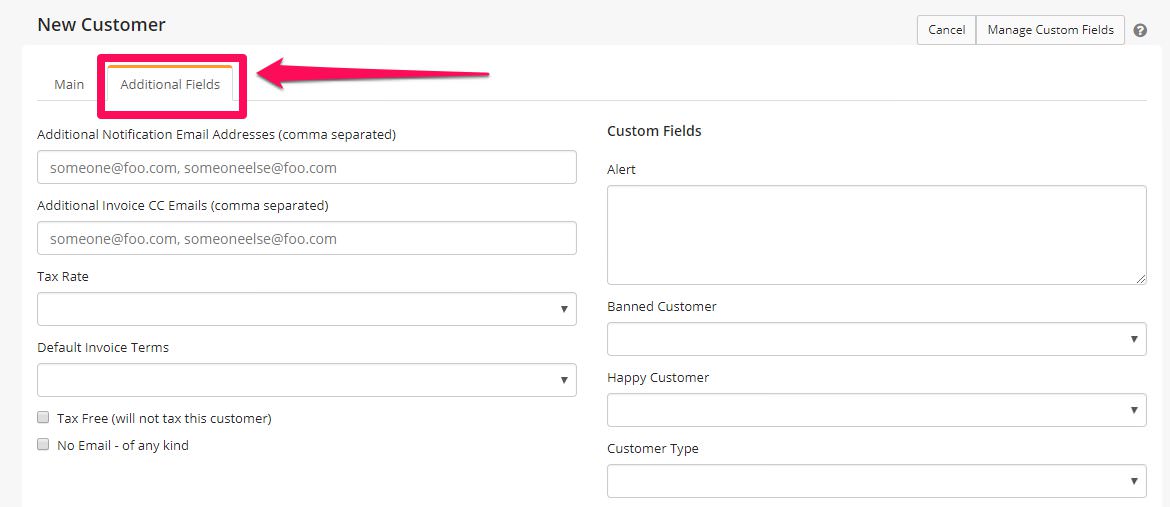 The additional fields section allows you to configure some advanced settings for the customer.
Tax Rate / Tax Free: These fields will allow you to set a default tax rate for the customer or whether the customer is 'Tax Exempt' by choosing Tax Free.
SMS Service Enabled: Allows you to enable or disable SMS communication using the customer's mobile number.
Opt Out of Email Marketing: Enabling this feature will just prevent Marketr emails from being sent to this customer's email address. Email correspondence regarding invoices, tickets, etc. will still be sent to the customer's email.
No Email - Of Any Kind: Disables all email communication from being sent to this customer.
Send Portal Invitation: If enabled, will send a portal invitation for the customer to set up and create a password. More information on using passwords with the customer portal available here.
Additional Notification / Invoice CC Emails: Allows you to add additional emails to be notified along with the primary account. Emails entered in the 'additional notification' field will receive invoice-related emails, but 'invoice CC email addresses' will not receive notifications outside of invoicing.
Default Invoice Terms: Allows you to set a default payment term for the customer. More information about invoice terms here.
Custom Fields
Customer custom fields can be accessed by selecting the 'Custom Fields' tab in the new customer section. You may also manage your customer custom fields from this the New Customer page by choosing 'Manage Custom Fields' located at the top-right of the New Customer page. More information about customer custom fields here.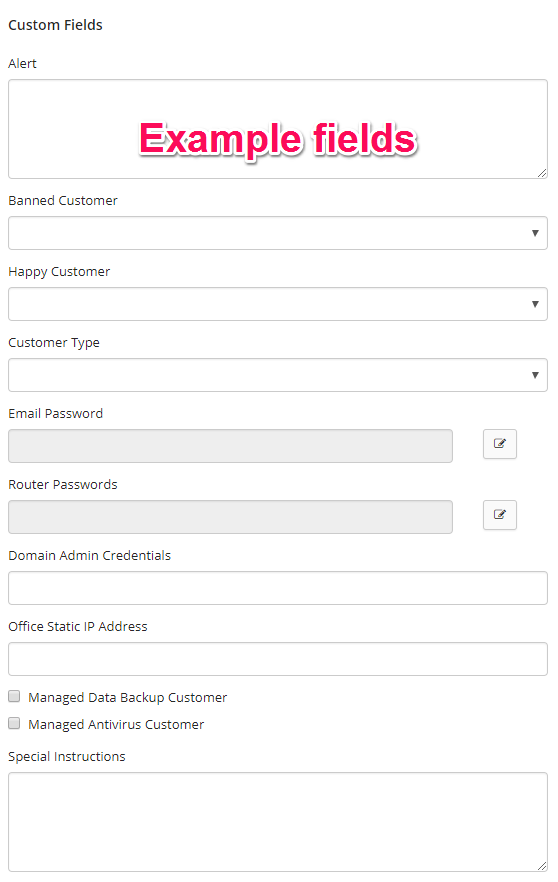 That's it! Have fun!