Customer Portal
The Customer Portal is a place for your customers to view all sorts of information about their tickets, communicate back and forth with you to paying you!
What it Does:
Customers can be automatically invited to the Portal when they are added to RepairShopr
Customer can view existing Tickets or Create new Tickets by default
Customers can view Invoices and pay you if you are using a Payment Integration
Customers can approve or decline Estimates
Customers can View uploaded documents
Customers can be Assets you have worked on
Customer can view past payment amounts
(Read through the article to get more details on the above)
What it Doesn't Do:
It's not an actual portal created from folded space-time. Well, maybe in a different universe it is anyway.
Know what you are looking for? Is it one of these? Quickly jump to them!
Portal Users
Overview:
First where is the Customer Portal? Head to the Customer Detail Page and on the left side there is a section called "Customer Information." At the bottom of the section, there is a link called Customer Online Profile (Customer Portal) that can is available as long as there is a email for the customer entered in their info. This will be where you can access the Customer's Portal to see what they can see.
The idea of the Customer Portal is to bring another level of communication to your customers to stay informed about their repairs or work being conducted by your shop. The Customer Portal is automatically created for every customer in the system that has an email address entered. We include a link to the Customer Portal in the footer of emails that go out to customers be default. Of course, that can be changed in the PDF/Email Template section of Admin.
Let's start with what it looks like first!
Let's go through the sections that are on here to explore what can be done on the Portal starting the top.
Ticket Section:

Clicking the Ticket number will take the customer to the Ticket Detail where you have the below functions.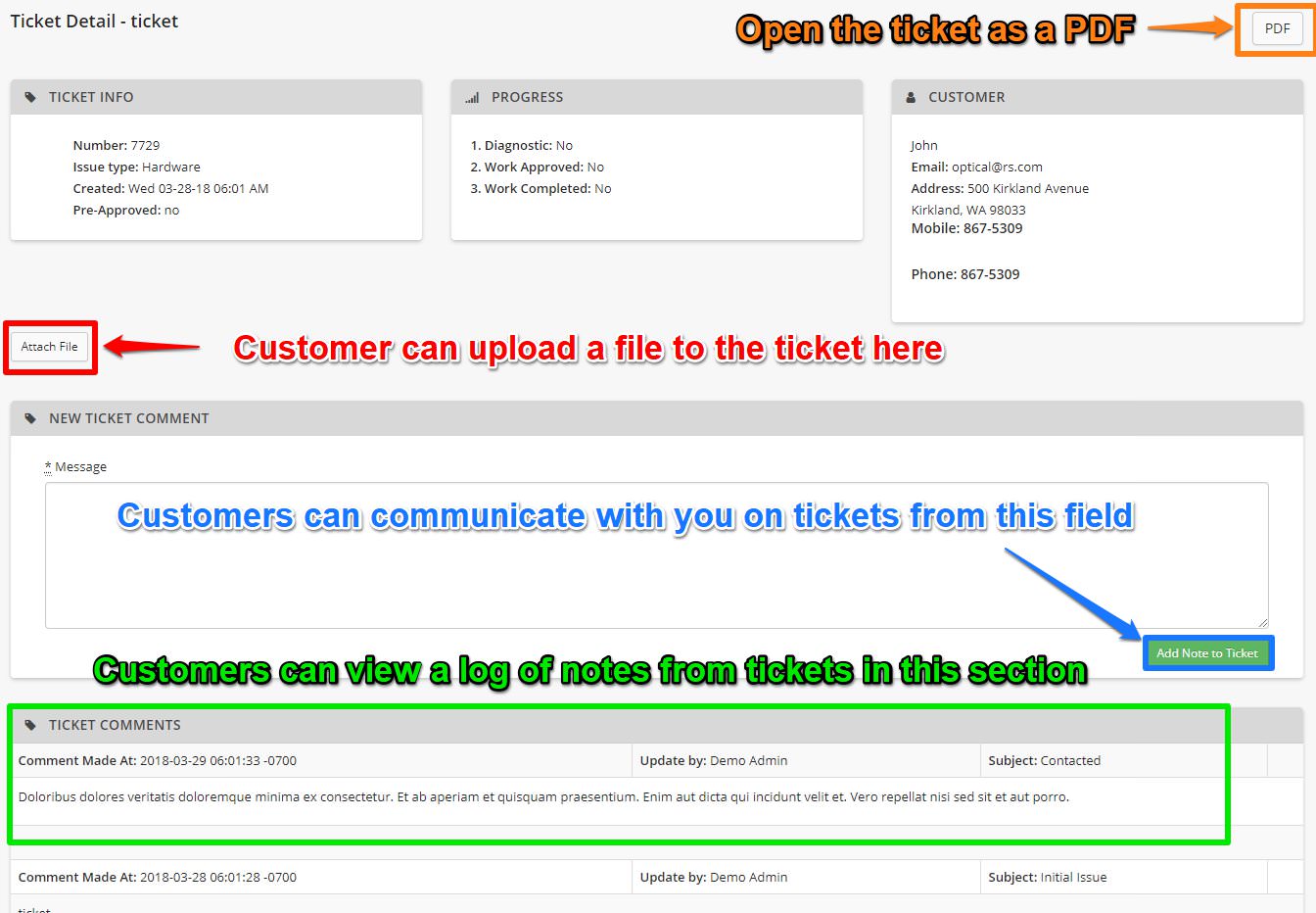 So in case it's not clear, there are some handy things happening here:
The customer can see messages that are sent to them from a ticket here
The customer can send you messages and they will be applied directly to the ticket. There are even notifications you can set in the Notification Center to be alerted when this happens!
Files can be attached to the Ticket such as documents, images or really any type of file that may be relevant to the job
The Customer can also open new tickets from the Ticket section as well to request work. Check out this article to learn more about Portal Permissions
Invoice Section
:
Things to note here are:
If you are using one of our Integrated Payment Gateways or PayPal, customers are able to pay their invoices in the Customer Portal. They can choose to pay individually or multiple invoices at once. Clicking the Invoice number on the right will take them to the detail screen for the invoice.
Fun things to note:
On the Invoice Detail screen, the customer can view the invoice as a PDF or download it locally to their computer.
If connected to a Payment Gateway there will be a button to process their payments.
Recent Payments, Estimates, Attachments, and Asset Sections
:
Portal Users:
While by default it is possible to get directly into the Customer Portal, we do have a feature that allows you to provide the customer a Username and password to secure their Portal. If the customer has employees that may need to use the portal or that may submit work requests, we recommend also turning on Contacts in the Customer Preferences.
The Portal Users are housed on the Customer detail page for a customer. Head there and scroll down to the Portal User section that looks like this:
Click the New button in the Portal Users section to get started:
We will populate the "Customer/Contact" section with the primary customer. This field is a drop down that allows you to select from the Customer Contacts as well.
The Login Field will pre-populate with a random assigned login id. This is the username for signing in to the Portal. We recommend changing this to the customer/contact's email address. 
It is also worth noting that we have a function to automatically send Portal User invites when the customer and contact are created in RepairShopr. You can activate that in the Customer Preferences > Advanced > Always Send Portal Invites to New Customers > Save.
The Password field will always default to empty when manually creating contacts. You can create a password for the Portal User or send them an email invitation for them to create their own (recommended).
It is also possible to Redirect the Customer Portal if you do not want customers using the Portal to a URL of your choosing. 
A good example might be you could direct your customers to a Custom Widget or maybe a page on your business website.
To do this, head to Admin > Customer Preferences > Advanced > Disable Customer Portal and redirect to URL (Leave blank to allow access) > Save.
Portal User Permission Groups
By default, Contacts will be included into a Limited View security Group which prevents them from seeing a bunch of things in the Customer Portal. For the adventurous of you, it's possible to customize what your customers see and do in the Customer Portal.
You'll see when you create a Portal User that there are 3 default groups to start out.
Admin Portal Group - Can see everything
Limited Portal Group - Can't see billing related items
No Portal Access - Uh...No Portal Access?
You can edit the existing groups or create your own! To do this, head to Admin > Customers > Portal User Permission Groups. This section behaves almost exactly like Security Groups for Users.
You can click the name of existing Groups to rename them. The far right context dots can be clicked to allow - edit, delete, clone or to Set Default.
Clicking Create New or edit will display the options available.