Customers
Overview:
The one-stop shop for customers in RepairShopr. This is a dense kb article. So if you are looking for something specific we recommend using your browser's ctrl+f search command or the anchor links in the Table of Contents.
The Customers section is the home for all of your customer information and the place to go to view their historical information.
Table of Contents:
More Customer Features:
Customers:
Navigating to the Customers tab is super easy. There will be a Customer tile along the top of RepairShopr by default. You can move it around in the Tabs Customization if you want as well. We often refer to the Customer tile as the Customer Tab in our documentation.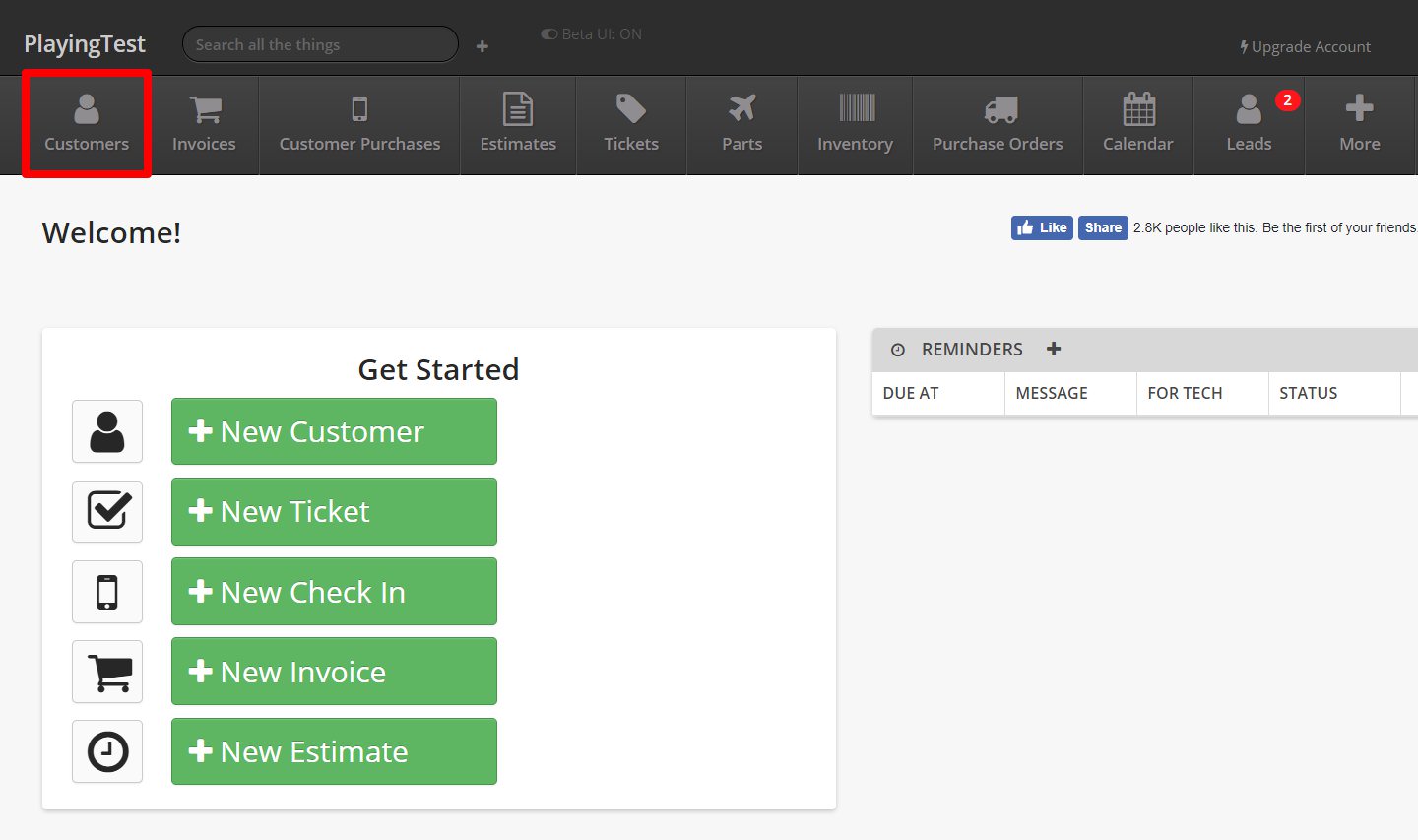 Creating Customers
There are several ways to go about creating a customer in RepairShopr. So let's go through them!
Click the GIANT green button on the main page!
Click the plus sign button to the right of Search All The Things
Click the Customer Tab then click the green New Customer button on the right of the next screen.
Importing Customers
So you have a bunch of customers and don't want to manually enter them? I wouldn't want to manually enter them either. We have a couple solutions for you. If you are using the Quickbooks integration or the Xero integration head to option 2.
1. You can import customers using a CSV file. To do this, head to Admin > Customers > Customer Import
You can download a template that has the CSV headers configured for the import tool (make sure not to modify those!) on step 1 of the next page.
There are some requirements for the system to create customers. Be sure you have at least 2 out of the 5 following columns for a successful import:
firstname
lastname
business_name
email
phone
Once your CSV is ready to go, you can import from this page in step 4.
BONUS STEP
: To make things proceed a little faster, we recommend turning off the User-based minimum requirements for customer creation (This stuff gets covered later on but I'll mention it here also). Head to Admin > Customer Preferences > "
Optionally, require these fields when creating a customer" drop down and uncheck everything > Save.
2. Import customers during the setup of Quickbooks Desktop/Online or Xero Accounting integrations.
Both the Quickbooks integration and the Xero integration have setup wizards and will prompt you to import your customers during the setup process. We strongly recommend importing your customers this way if they exist on the QB or Xero side of things. This makes it so that the customers are linked to their QB/Xero counterparts, ensuring that they will sync right away without additional steps. Both integrations can be found in the App Center. Head to Admin > App Center > Quickbooks or Xero.
Customer Tab
This is the home of your Customer database.
Your customers are listed here in alphabetical order by last name and business name. The search field can be used to search by name, business name, email or phone number (there are other places in the software to quickly look up customers also, specifically the Search All the Things field that is at the top of every page).
Customer Quick Access
Anywhere that a Customer is shown on the Customer Tab, Tickets, Estimates and Invoices, there is a hover-over icon that can be clicked to quickly view information about a customer or make quick changes to their record.
Customer Detail
This page will show you everything about this customer that relates to your business. There are links and sections here for days...The idea here is to make everything easily accessible. The next section of this KB is to define things on this page. 
New Drop-down
Clicking the Orange 'New' drop-down to access the ability to create all new manner of things.
Appointment: Create a new appointment for the customer
Reminder: Set a new Reminder that is associated with this customer.
Attachment: Upload or pull a file into the customer record from your local device or your preferred cloud storage provider like Google Cloud.
Invoice: Create a New Invoice.
Estimate: Create a New Estimate.
Ticket: Create a New Ticket.
Payment: Create a New Payment.
Customer Purchase: Create a New Customer Purchase.
Store Credit: Add Store Credit to the customer record.
Recurring Invoice: Create a Recurring Invoice for the customer.
Kabuto Subscription: Takes you to the Recur Recurring invoice with packages and policies associated. 
Kabuto Installer: Download the .exe installer associated with the Customer.
Clicking the Edit button allows you to make changes to the Customer Record. Keep reading for more details.

You can make changes to the main contact's information for the customer record here.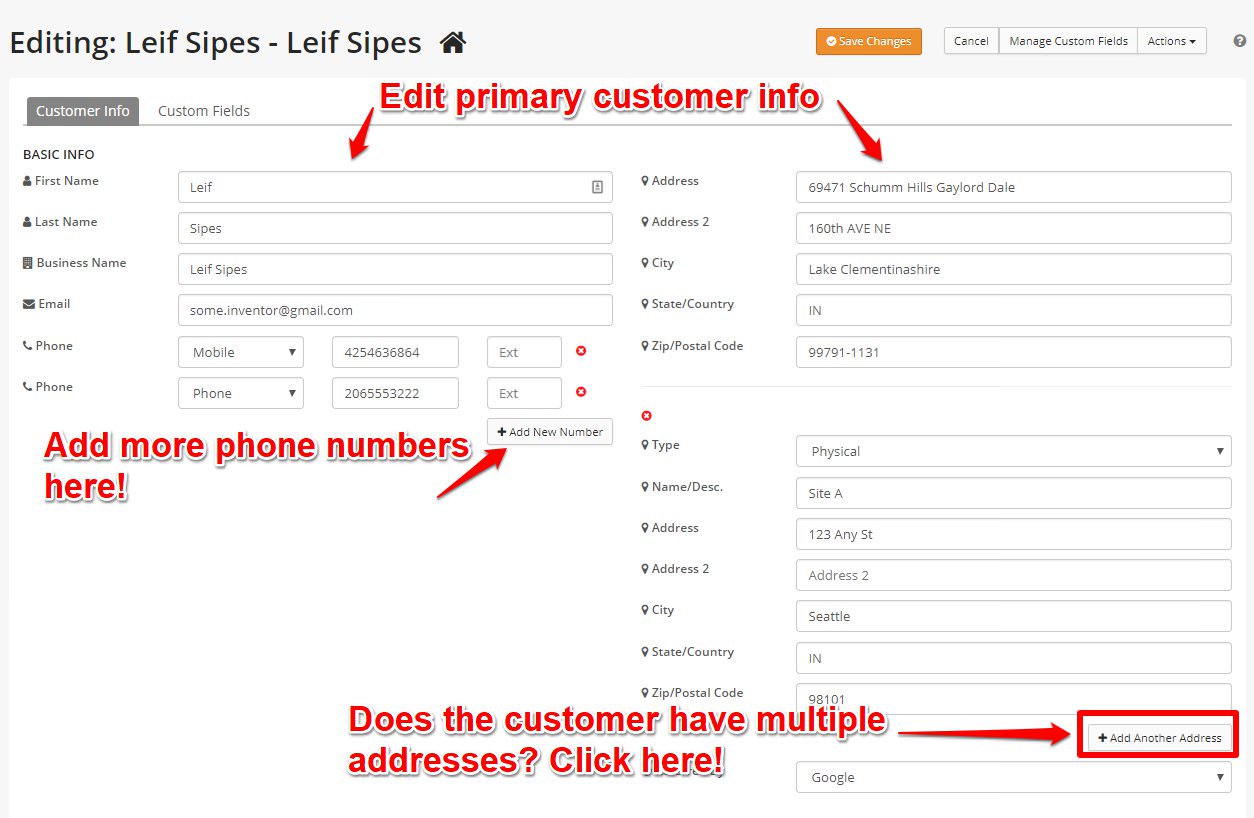 Click the Custom Fields Tab to make changes to any Customer Ticket Fields you may be using for extra data points on the customer.
The Actions drop-down here allows you to Merge or Disable customers here. With Great Power comes Great Responsibility and all that. Be certain of what you are doing as there are no takesy-backsies.
Manage Custom Fields will take you to the Customer Custom Field edit screen which is discussed

Print Buttons
There are 2 options for printing things from each section. There is a PDF (the option on the left) and the AutoPrintr button (the button on the right). They both offer the same printing options.  


Communication Log Tab
The Communication Log Tab displays a record of most communications that go out or come in from the customer. You are also able to record inbound/outbound communication manually to the log as well. The more info the better right?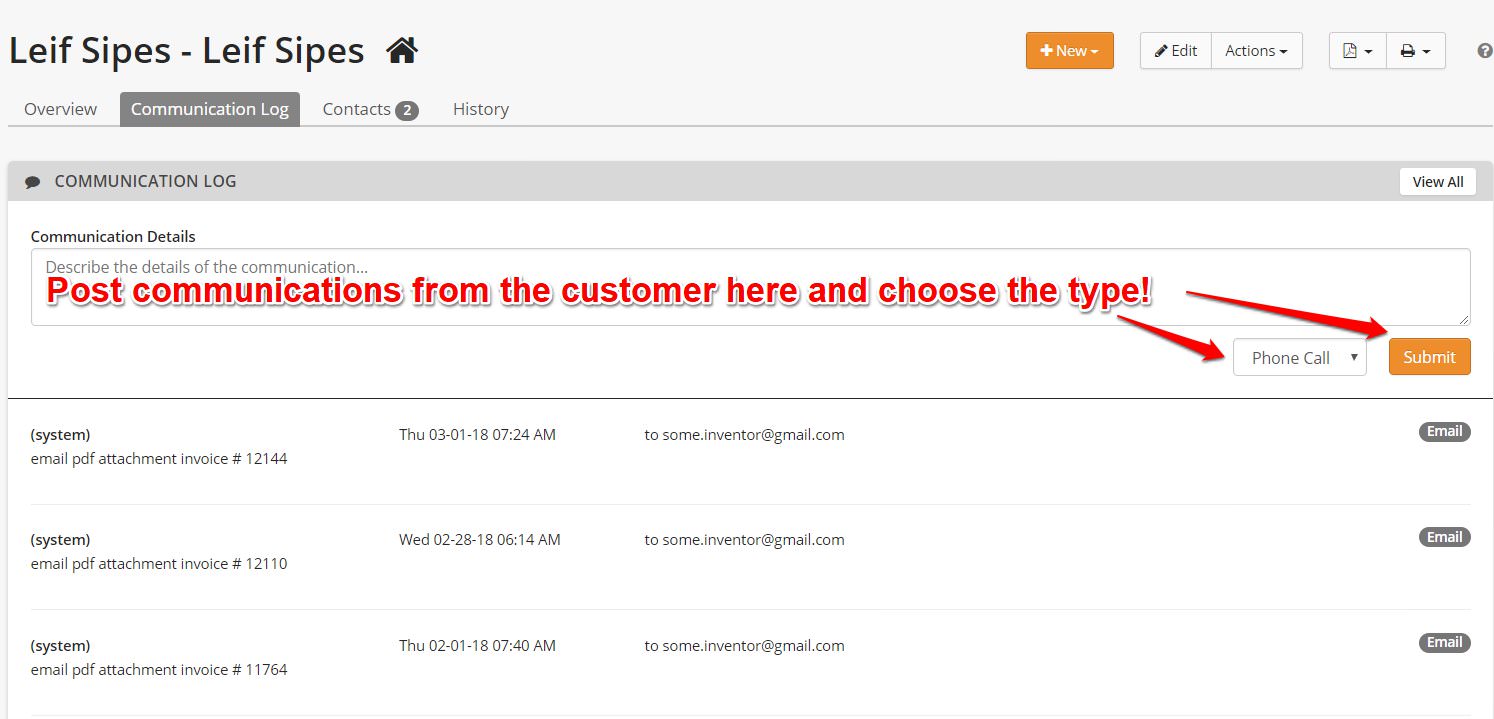 Customer History Tab
This tab is helpful to track who has made changes to the Customer Record!
Customer Contacts
Is your client a family or business? You can add additional contacts to a customer record very easily (sometimes automatically: see Mailboxes)
First let's start with how to activate this feature. Head to Admin > Customer Preferences > Check Enable Multiple Contacts on Customers > Hit Save
Next, you should now have the option to create Customer Contacts on the Customer Detail page.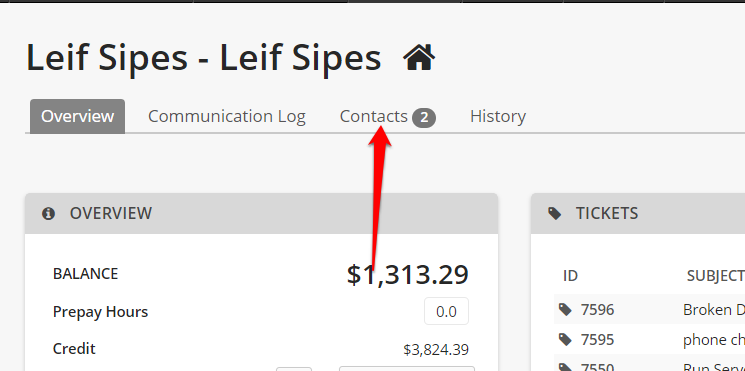 Customer Custom Fields
Create fields to record specific information about your customer that you want/need to keep on file. Things like type of customer (residential or business), or maybe specific information about the business that may need to be referenced.
To get started, head to Admin > Customers > Customer Custom Fields
On the next screen, you will be presented with any existing Custom Fields and have the option to edit those or re-order them.
Quick Tip: If you have been using a a particular custom field on customers, do not change the name of the field. The data already contained in the field for customers previously will not longer show. Worry not, putting the name back, will cause the data to return.
Click New field or Edit to get to the Custom Field Edit screen.

 The Field Type drop down allows you to choose from a selection of options to record info! 
Text Field
: Creates a text field to enter data in to if you want.
Check Box
: Creates check box lines. 
Drop Down
: You can make field with a Yes/No answer.
Web Link
: A field that will allow a clickable hyperlink.
Text Area
: Allows a large text field to dump text data in to it.
Date Field
: Allows you to choose a date.
Popup
: Will create a pop-up when someone visits the Customer Detail page.
Turn on SMS by default:
 Enables SMS for each customer by default.
Enable Multiple Contacts on Customers:
 Allows you to have one umbrella Customer, with several points of contact within it the larger Customer record. For example if you are working with a company with several locations/store owners, you can add each one to that same company's Customer Record.
List for tracking Referred By:
 Lets you edit the referral source options when you create a new Customer Record. If you want to track referrals by existing customers, just enter "Customer" as one of the options and a drop down will appear when you are adding referral sources for new customers.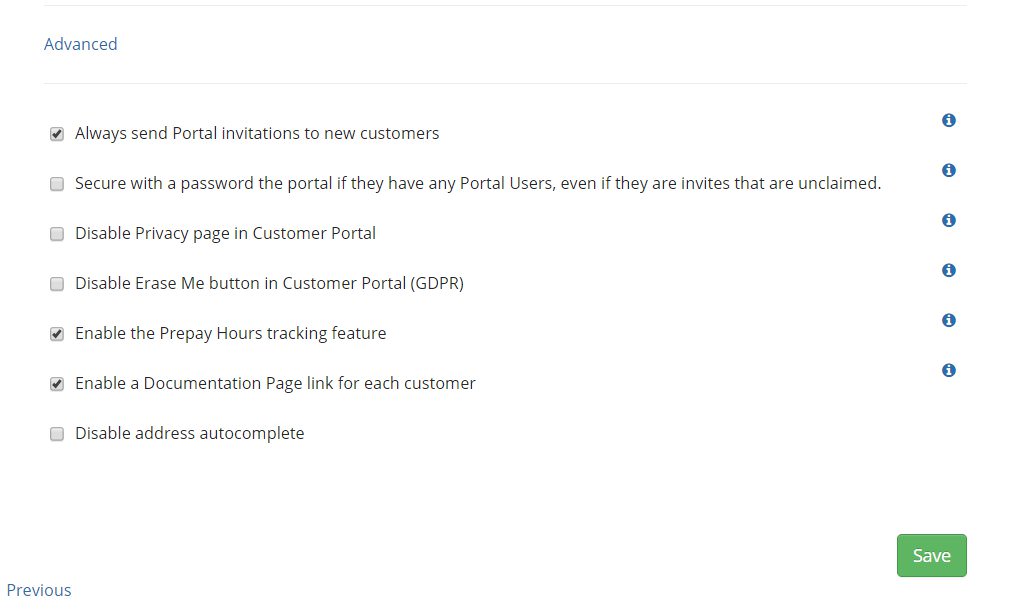 Always Send Portal Invitations to new customers:
This will send Customer Portal invitations to all New Customers that are created in your account.
Secure with a password the portal if they have any Portal Users, even if they are invites that are unclaimed: Further secures the Customer Portal. Yay Security! 
Disable Privacy Page in Customer Portal (GDPR): Remove the Privacy Page section from the Portal
Disable Erase Me button in Customer Portal (GDPR):
Remove the Delete Request button from the Customer Portal

Enable the Prepay Hours tracking feature:
Allows you to sell and apply pre-payed or block hours to a Customer. Refer to
this article
 to learn more.
Enable a Documentation link for each customer:
This enables the wiki feature for all customers. You can read more about that in
this article
.
Disable the address autocomplete:
Will disable the auto complete for addresses.
Optionally, require these fields when creating a Customer:
Sets requirements for certain info fields when you create a Customer.